25 minutes from the heart of Qatar's vibrant capital, a luxury catamaran ferry crosses crystal clear water to reach a breathtaking island that feels a world away, while a private helicopter pad offers an exclusive arrival with a bird's eye coastal view. Welcome to Banana Island Resort Doha by Anantara – a paradise sanctuary which respects local culture by offering an alcohol-free environment, with world class facilities and limitless activities providing relaxation and adventure, wellness and pure indulgence. Hideaway in true Arabian luxury with 141 rooms, suites, pool villas and over water villas setting the mood for romance and unforgettable holidays with family and friends. Bask on our private 800 metre beach and refresh yourself at the 100 metre long lagoon pool, or master the waves in our surf pool and enjoy a wide range of water sports. Experience how health and beauty go hand in hand with expert care, from sensual journeys in over water spa suites to holistic lifestyle programmes at the dedicated wellness centre. Learn about precious marine life, before signing up for snorkelling and scuba diving adventures at our retreat which features prominently amongst luxury hotels in Doha. Leisure and entertainment also spoil you for choice, from bowling, golf and beach games by day, to our VIP cinema at night. Evolving culinary temptations showcase sumptuous Middle Eastern culture, refined Italian tastes and delectable world flavours, savoured with prestigious marina and tranquil sea views, shisha and signature mocktails at sunset, and fine dining under the stars overlooking Doha's regal skyline.
HORIZONTAL MOVEMENT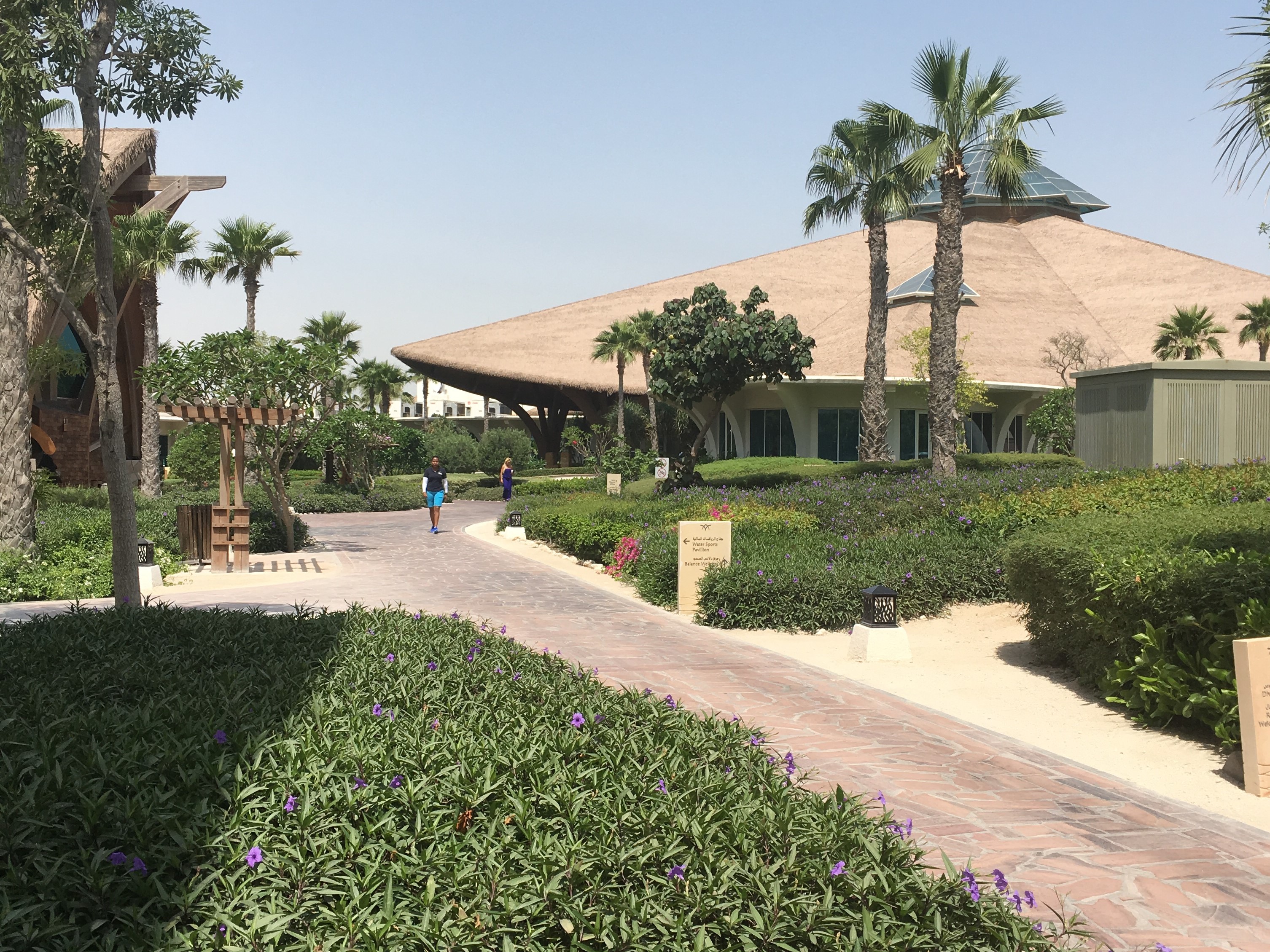 Manoeuvrability
All corridors are wide enough to enable wheelchair users and people using mobility equipment to manoeuvre easily. Circulation routes are generally good.
The majority of corridors are free from obstructions which would hamper a wheelchair user's ability to manoeuvre. This would also assist people using mobility equipment.
Floor surfaces are slip resistant and suitable for wheelchair users or people using mobility equipment.
Tables and chairs are moveable so can accommodate different user requirements.
The hotel has a number of designated accessible bedrooms
Doors are wider than standard to enable wheelchair users or guests using mobility equipment to manoeuvre easily
The accessible bedrooms have sufficient space to move for guests using wheelchairs or mobility equipment. Adequate space is provided next to the bed.
No emergency alarm is provided next to the bed to enable guests to call for help if required.
The route to the swimming pool area is level, or has well designed ramps to enable access. Guests can access the seating/sunloungers with relative ease.
Treatment rooms are suitable for wheelchair users and mobility equipment users
Restaurants/bars/cafés have level access or well designed ramped access.
Disclaimer
This report has been prepared by Accessible Qatar, an initiative by Sasol Middle East & India (Sasol) as part of its corporate social responsibility programme. This report is not provided on a commercial basis and no fees were charged for the preparation of this report. The report is provided on an "as is, where is" basis and Sasol and its affiliated companies do not make any representations or warranties, express or implied, regarding the quality, quantity, value, condition, completeness or accuracy of this report or any information or recommendations included in this report. The venue agrees that, to the maximum extent permitted by applicable law, Sasol shall not be liable for any losses, liabilities, costs, damages and expenses that the venue does or will incur or suffer as a direct or indirect result of this report.