With nine restaurants and lounges, a three-storey Spa and Wellness Centre, comprehensive business facilities and a private beach, Four Seasons Hotel Doha is a haven for business travellers and pleasure seekers to Qatar. Experience 17 storeys of modern luxury blended with classical charm.
NOTES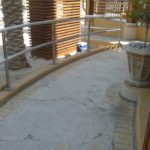 Ramped access is provide at access the pool area, the ramp is reasonably designed and would suit the majority of wheelchair users.
Disclaimer
This report has been prepared by Accessible Qatar, an initiative by Sasol Middle East & India (Sasol) as part of its corporate social responsibility programme. This report is not provided on a commercial basis and no fees were charged for the preparation of this report. The report is provided on an "as is, where is" basis and Sasol and its affiliated companies do not make any representations or warranties, express or implied, regarding the quality, quantity, value, condition, completeness or accuracy of this report or any information or recommendations included in this report. The venue agrees that, to the maximum extent permitted by applicable law, Sasol shall not be liable for any losses, liabilities, costs, damages and expenses that the venue does or will incur or suffer as a direct or indirect result of this report.