Kempinski Residencies & Suites Doha
Kempinski Residences & Suites, Doha, the tallest tower in Qatar, measures 256 meters. This luxurious city hotel, which opened in 2010, features 368 city or sea view facing suites and villas, measuring between 72 sqm – 596 sqm. Every facility required for comfortable living is on hand, from the doorman and the residence services desk that warmly greet the guests, to the 24-hour concierge service. Kempinski Residences & Suites, Doha, is located in the prestigious central business district of West Bay, just steps away from major embassies, companies, government offices and the City Centre Shopping Mall. The Doha Corniche, a landscaped waterfront promenade extending elegantly around the Doha Bay, is located within a 5-minute walk from the hotel, while The Pearl Island is a mere 10-minutes' drive away; Hamad International Airport is 20km / 25 minutes away.
HORIZONTAL MOVEMENT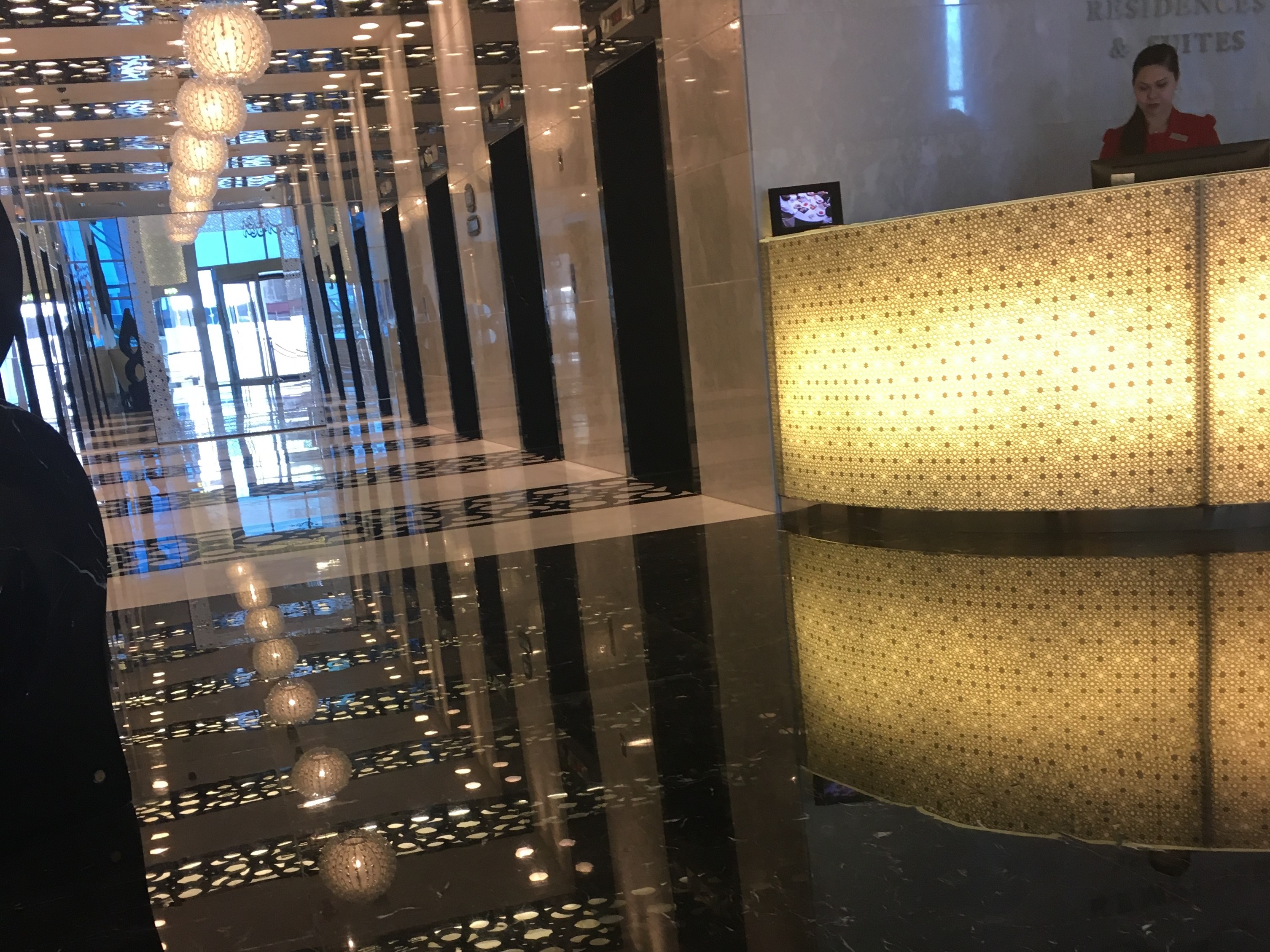 Manoeuvrability
All corridors are wide enough to enable wheelchair users and people using mobility equipment to manoeuvre easily. Circulation routes are generally good.
The majority of corridors are free from obstructions which would hamper a wheelchair user's ability to manoeuvre. This would also assist people using mobility equipment.
Floor surfaces are slippery which is problem for people using mobility equipment.
Seating is provided to enable wheelchair users to sit with their friends/family
Tables and chairs are moveable so can accommodate different user requirements.
The hotel does not have any accessible bedrooms available
Treatment rooms are suitable for wheelchair users and mobility equipment users
The main restaurant and some of the bars/cafes are accessible for people using wheelchairs /mobility equipment.
Disclaimer
This report has been prepared by Accessible Qatar, an initiative by Sasol Middle East & India (Sasol) as part of its corporate social responsibility programme. This report is not provided on a commercial basis and no fees were charged for the preparation of this report. The report is provided on an "as is, where is" basis and Sasol and its affiliated companies do not make any representations or warranties, express or implied, regarding the quality, quantity, value, condition, completeness or accuracy of this report or any information or recommendations included in this report. The venue agrees that, to the maximum extent permitted by applicable law, Sasol shall not be liable for any losses, liabilities, costs, damages and expenses that the venue does or will incur or suffer as a direct or indirect result of this report.