The Museum of Islamic Art represents Islamic art from three continents over 1,400 years. MIA is the flagship of Qatar Museums which, under the leadership of its Chairperson H.E. Sheikha Al Mayassa bint Hamad bin Khalifa Al Thani, is transforming the State of Qatar into a cultural capital of the Middle East. MIA sheds light on our origins to illuminate our future. Through safeguarding masterpiece collections of Islamic art and showcasing extraordinary exhibitions, MIA shares knowledge, spreading curiosity, understanding, and joy.
TOILETS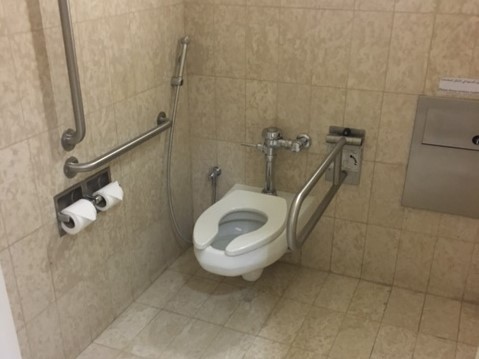 Wc accessibility
Accessible toilets are provided in close proximity to standard toilet provision
No signage is provided to assist people unfamiliar with the building/venue
Adequate space is provided in front of the accessible toilet to enable people using wheelchairs to manoeuvre.
Door opens outwards to provide sufficient space within the accessible cubicle.
An emergency alarm is not provided in the accessible toilet
Drying facilities are not within reach of the WC in the accessible toilet
The tap is difficult for people with limited dexterity to use in the accessible toilet
The sink is not reachable from the WC within the accessible toilet
A full length mirror is not provided
Clothes hooks are not provided / not located correctly
Disclaimer
This report has been prepared by Accessible Qatar, an initiative by Sasol Middle East & India (Sasol) as part of its corporate social responsibility programme. This report is not provided on a commercial basis and no fees were charged for the preparation of this report. The report is provided on an "as is, where is" basis and Sasol and its affiliated companies do not make any representations or warranties, express or implied, regarding the quality, quantity, value, condition, completeness or accuracy of this report or any information or recommendations included in this report. The venue agrees that, to the maximum extent permitted by applicable law, Sasol shall not be liable for any losses, liabilities, costs, damages and expenses that the venue does or will incur or suffer as a direct or indirect result of this report.