A five-star gem has emerged in the City of Pearls and Lights. Warwick Doha sits amid Doha's city centre, putting guests in the middle of everything the city has to offer including Souq Waqif, Aspire Zone Sports Complex, Hamad Hospital, Mall of Qatar, US Embassy, Museum of Islamic Art, Doha Festival City and the prominent West Bay neighborhood. But it's not simply the location that sets Warwick Doha apart as guests will find a new standard of luxury – starting with the rejuvenating spa and rooftop swimming pool. With a blend of contemporary and classic styling, an array of elegant rooms and suites, and refined dining, Warwick Doha is designed to create the most memorable Qatar stay imaginable.
HORIZONTAL MOVEMENT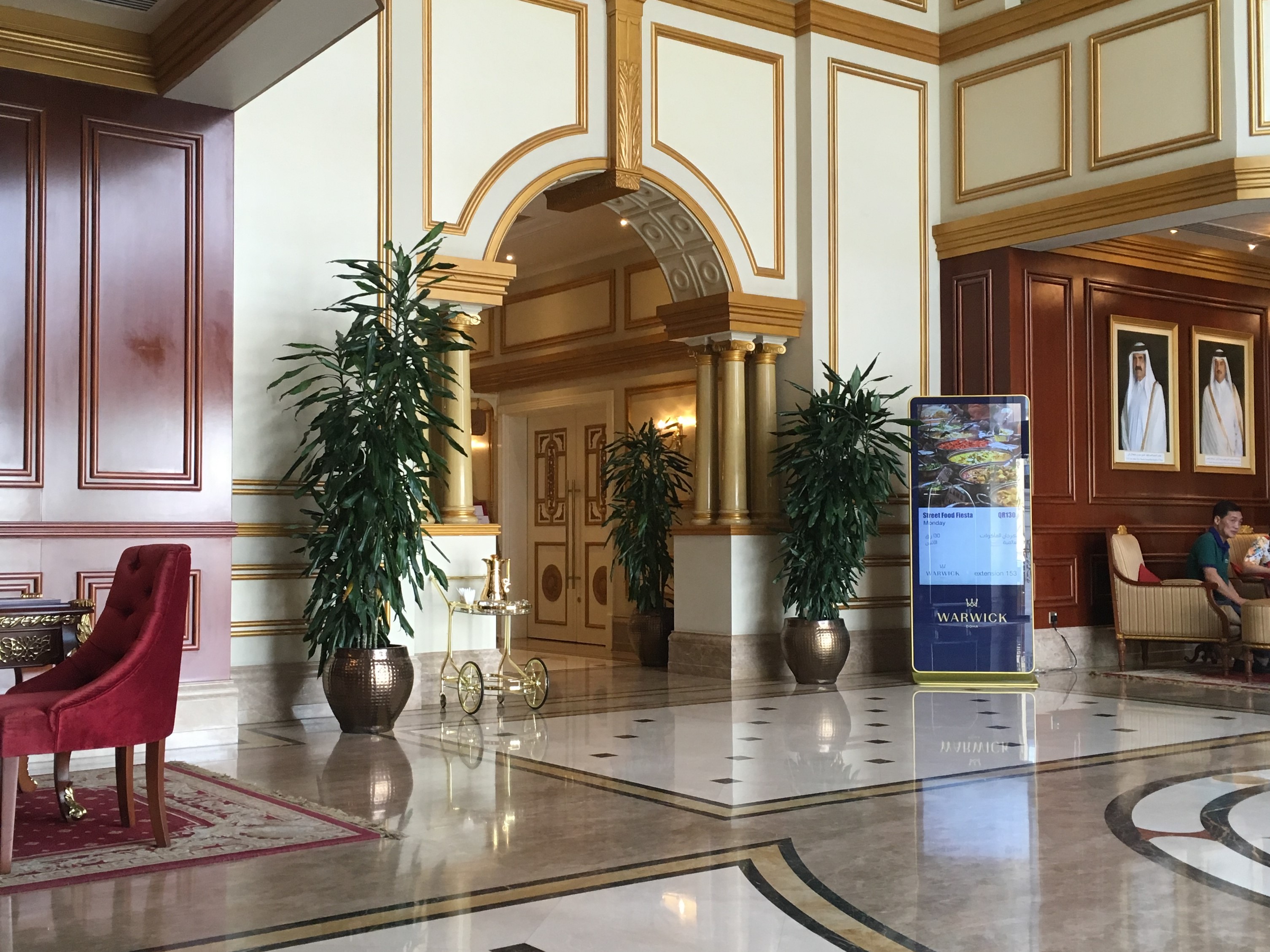 Manoeuvrability
All corridors are wide enough to enable wheelchair users and people using mobility equipment to manoeuvre easily. Circulation routes are generally good.
The majority of corridors are free from obstructions which would hamper a wheelchair user's ability to manoeuvre. This would also assist people using mobility equipment.
Floor surfaces are slippery which is problem for people using mobility equipment.
Seating is provided to enable wheelchair users to sit with their friends/family
Tables and chairs are moveable so can accommodate different user requirements.
The hotel has a number of designated accessible bedrooms
Doors are wider than standard to enable wheelchair users or guests using mobility equipment to manoeuvre easily
The accessible bedrooms have sufficient space to move for guests using wheelchairs or mobility equipment. Adequate space is provided next to the bed.
The fixtures and fittings such as light switches, spy hole, and clothes rails are positioned so they can be used by someone in a seated position.
No emergency alarm is provided next to the bed to enable guests to call for help if required.
The route to the swimming pool area is level, or has well designed ramps to enable access. Guests can access the seating/sunloungers with relative ease.
Access into the swimming pool is level/gently ramped therefore guests could access with care.
Treatment rooms are suitable for wheelchair users and mobility equipment users
Restaurants/bars/cafés have level access or well designed ramped access.
Disclaimer
This report has been prepared by Accessible Qatar, an initiative by Sasol Middle East & India (Sasol) as part of its corporate social responsibility programme. This report is not provided on a commercial basis and no fees were charged for the preparation of this report. The report is provided on an "as is, where is" basis and Sasol and its affiliated companies do not make any representations or warranties, express or implied, regarding the quality, quantity, value, condition, completeness or accuracy of this report or any information or recommendations included in this report. The venue agrees that, to the maximum extent permitted by applicable law, Sasol shall not be liable for any losses, liabilities, costs, damages and expenses that the venue does or will incur or suffer as a direct or indirect result of this report.